A Message In A Bottle
I have finally been given permission by the bride (my sister Kim) to share with you THE wedding invitations!
So, said wedding is taking place on the beach in Vilanculos, Mozambique. With this in mind, I suggested the invite to be a "message in a bottle" – nothing could be better right?!
The colour scheme of the wedding has revolved around the flower of choice... Phalaenopsis orchid!
After ideas bouncing around between mum and daughters and a little research on the Interweb the invites were created...
The actual invitation is a scroll that has been printed and lazer cut to create that old- burnt effect. Unfortunately I don't have a picture of the actual invite at the moment but I will get one up here soon.
The scroll has been dropped into the bottle and to avoid frustration of trying to get it out with tweezers, Kim came up with this genius idea of wrapping the scroll around clear twine that has a stopper at the bottom so you just pull twine and out comes invite!
Salt was used to create the effect of sand and a chemical compound (glazing) was then poured over the sand and shells were then flicked into place. The glazing compound then dried holding the sand and shells in place. Hopefully you can see this effect in the above picture.
The shredded paper used to fill the box reminded me of a 'filled crate' and I thought it complemented the bottle perfectly!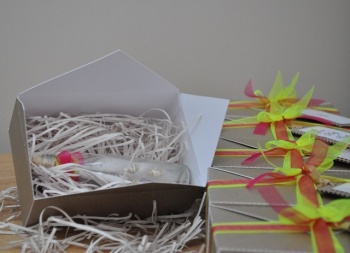 Finishing touches were the pink and yellow ribbon, along with a raffia tied tag with guests names printed on!
I loved how these invites turned out (not to be biased or anything) and think my family did an awesome job! At least I got to help in some physical way by assembling the UK and rest of world invites and posting them off.
These invites were designed and created by Kim based in Zimbabwe and cost approximately $20 each. This does not include packaging and posting.
If you're interested in these and would like to know more please contact me here.